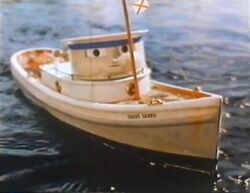 Cappy
Cappy is a small vessel who acts as customs officer for the port. He often stands at the entrance to the estuary ready to question and check incoming shipping before clearance. On other occasions he stands by and over-looks large-scale operations, such as demolition and quarry work. He also doubled as a 'one-man' police-force. Despite his size, he has heavy influence and authority over the vessels of the port.
Voice Actors
Edit
Because of his small size, eye and wheelhouse mechanisms could not be added to his model.
The Coast Guard's model was reused as set dressing in various episodes of TUGS' sister television series Thomas the Tank Engine and Friends.

However, since Thomas the Tank Engine and Friends has now turned itself into a CGI animation series in mid 2008, it is currently unknown where the Coast Guard's model is.
Merchandise
Edit
Ad blocker interference detected!
Wikia is a free-to-use site that makes money from advertising. We have a modified experience for viewers using ad blockers

Wikia is not accessible if you've made further modifications. Remove the custom ad blocker rule(s) and the page will load as expected.