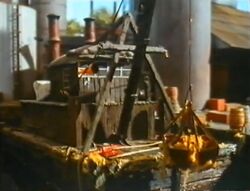 Little Ditcher
Little Ditcher is a small and dirty a-framed crane, and is therefore, one of the smallest floating cranes in the port. She is sometimes used for dredging up river at Mittsville or for oyster fishing in the estuary, as well as various other jobs. Her size makes him unsuitable for rescue operations. She is good friends with the Star Tugs.
In The original TUGS series Little Ditcher is depicted as a male character.
Voice Actors
Edit
Ad blocker interference detected!
Wikia is a free-to-use site that makes money from advertising. We have a modified experience for viewers using ad blockers

Wikia is not accessible if you've made further modifications. Remove the custom ad blocker rule(s) and the page will load as expected.