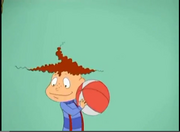 "Salty is a livley lad who loves to run and play
He waves hello to every Tug that chugs across the bay!" 
Main theme
Salty is a character of the cartoon segments. He is main character who loves using his imagination to cosimerrate with human and animal friends alike, learning all sorts of lessons.He has many adventures in Aunt Chovie's lighthouse.He has lots of friends that are Ocho, Aunt Chovie, Claude, Sophie and Sadie.  
He is also known as his alter-ego The Salt Man.
Ad blocker interference detected!
Wikia is a free-to-use site that makes money from advertising. We have a modified experience for viewers using ad blockers

Wikia is not accessible if you've made further modifications. Remove the custom ad blocker rule(s) and the page will load as expected.