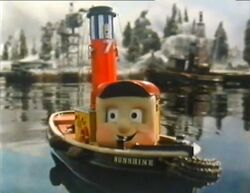 Sunshine
Affiliation: Star Fleet
Number: 7
Type: Harbor Switcher Tug
"Who you calling tiny Tug!"
Sunshine, Too Young to Be Included
Sunshine is Captain Star's seventh and youngest tug, a small 'harbor switcher' who is used for a wide variety of tasks around Snugboat Harbor. She has many capabilities that range from the towing of barges to liner docking operations.
Sunshine can be occasionally cheeky at times, but is very strong willed nevertheless.
Sunshine works mainly with Ten Cents, the Star Fleet's first and larger switcher. They have shared many adventures, almost to the extent that it is impossible to imagine one without the other, and they are both the best friends.
Sunshine wears a red flatcap on her wheelhouse (or head).
Sunshine was originally written as a male in Tugs.
In some shots, she appeares in her original white paint, but in most shots, she is in her star fleet colors.
Sunshine is Ten Cents' little sister.
Ad blocker interference detected!
Wikia is a free-to-use site that makes money from advertising. We have a modified experience for viewers using ad blockers

Wikia is not accessible if you've made further modifications. Remove the custom ad blocker rule(s) and the page will load as expected.