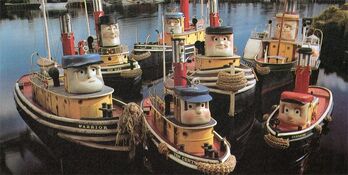 The Star Fleet, owned by the Star Tug and Marine Company, is the group of tugboats who are the main protagonists in the television series, TUGS. They are based off the tugs of the San Francisco waters from the 1920s. Throughout the series, the Star Fleet's main rivals were Captain Zero's Z-Stacks.
Former Members
Edit
Ad blocker interference detected!
Wikia is a free-to-use site that makes money from advertising. We have a modified experience for viewers using ad blockers

Wikia is not accessible if you've made further modifications. Remove the custom ad blocker rule(s) and the page will load as expected.