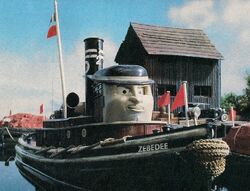 Zeebee
Affiliation: Zero Fleet
Number: 2
Type: Harbour Tug
"Steamer your not supost to be in the harbour!"
Zeebee, Taking my Turn
Zeebee is a confused Zero Tug. He is Captain Zero's second tug and Zorran's right hand tug.
Zeebee is used for a variety of tasks around Snugboat Harbor. Like the other Zeros, Zeebee is based on the NYC Moran Fleet tugs from the 1920's. His personality resembles Shemp Howard. Zeebee is one of the more complex TUGS characters, an easy-going tug who winds up the Star Fleet for a reason or another mean and vindictive on the outside, but on the inside there is much to his personality. Beneath his tough exterior is the only zero to have a conscience.
In TUGS episode High Winds, his guilty conscience proves he has good in him when he helps the Star Fleet tow the liner Princess Alice. He was once offered to join the Star Fleet but refused, saying he's a Zero Tug at heart. Zeebee's lighter side was never examined again in the series, but it was an interesting factor that might have been further revealed if the series had continued.
In the live-action series TUGS, Zeebee (or as in this case "ZEBEDEE")was originally a true Z-Stack and voiced by Nigel Anthony, giving him a Liverpudlian accent.
His model was sold to The Star Tugs Trust.
In TUGS, he is often called "Zeb" for short, and was sometimes called "Zebby" by Johnny Cuba, the original Steamer.
Voice Actors
Edit
Ad blocker interference detected!
Wikia is a free-to-use site that makes money from advertising. We have a modified experience for viewers using ad blockers

Wikia is not accessible if you've made further modifications. Remove the custom ad blocker rule(s) and the page will load as expected.